FILM PREMIERE
Wednesday, March 14th, 2007
Screening #1

After a year and a half of filming, traveling, editing, and stressing, the World Premiere of Helvetica happened last night at SXSW in Austin. A sellout crowd of 450 packed into the Austin Convention Center for the film and a post-screening Q&A with David Carson and I (below). The audience was great, and although the evening is still sort of a blur for me, from the amount of laughs and applause we got it seemed like everyone really enjoyed the film.
(150 people had to be turned away )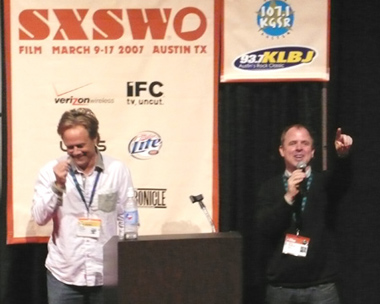 dc and director gary hustwit at world premeiere of Helvetica.